Apple Recipes

Enjoy some of our favorite apple recipes!
Mary's Apple Crisp
Ingredients:
6 apples peeled, cored, and sliced (preferably a mix of sweet and tart apples)

2 tbsp white sugar

1/2 tsp ground cinnamon

1-2 tbsp flour

3/4 cup brown sugar

3/4 cup old-fashioned oats

3/4 cup flour

1 tsp ground cinnamon

1/2 cup cold butter, sliced
Directions:
Preheat oven to 350F. Toss apples with white sugar and 1/2 tsp cinnamon in a medium bowl. Add enough flour to coat apples. Pour mix into a 10" cast iron pan.

Mix the brown sugar, oats, flour, and cinnamon in a separate bowl. Use a fork to mash cold butter into the oats mixture until crumbly. Spread the mixture all over the apples.

Bake for about 40 minutes or until top is golden brown. Enjoy alone or with vanilla ice cream!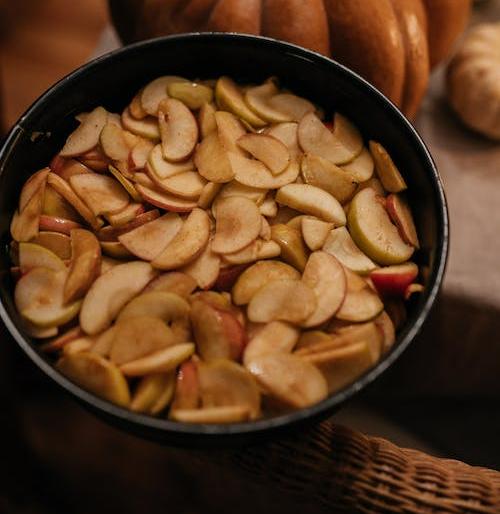 Mat's Apple Squares
Ingredients:
2 cups flour
1/2 cups sugar
1/2 tsp baking powder
1/2 tsp salt
1 cups butter or margarine
2 egg yolks, beaten
6 medium apples- peeled, cored, and sliced
3/4 cups sugar
1/4 cups flour
1 tsp cinnamon
1 egg white, beaten
1/2 cup powdered sugar (optional)
1-2 tbsp milk (optional)
Directions:
Preheat oven to 375F. Mix together the flour, sugar, baking powder, and salt. Using a fork, cut in the butter and eggs to the dry mixture. Divide mixture in half and set aside one half.

Lightly grease a 9x13" baking dish. Using a rolling pin, roll out dough to the size of the baking dish. Gently move the dough onto the bottom of the dish. This is the bottom crust.

In a separate bowl, mix together the apples, sugar, flour, and cinnamon. Add the apple mixture to the baking dish. Spread evenly over the crust. Add the top crust. Brush with the beaten egg white. Bake for 35 – 40 minutes until golden brown. Let cool for 10 minutes, slice, and serve! Optional: create icing with powdered sugar and milk.